Former Everton striker Tim Cahill have urged the club's supporters to stand by their team following their recent run of dismal results. The Merseyside outfit have endured a difficult run in the Premier League this campaign, and this sees them just two points adrift of the dreaded drop.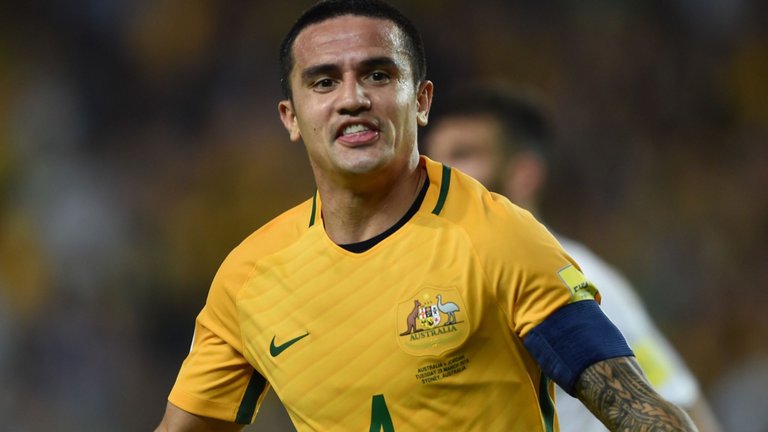 Australia's icon Tim Cahill claims that it is imperative for the national team to reach the World Cup 2018, as it is a factor that helps improve the overall quality of the Australian football.
Tim Cahill will be unavailable for Melbourne City's title defence which begins with a game in the FFA Cup.
Tim Cahill believes that the Australian team is improving after a tough period.
He said things have become difficult ever since they were beaten 6-0 by both Brazil and France and that a change was needed in the team.
He feels that ever since Ange Postecoglou has taken over the team, he has brought fresh life to the team and that the team is now progressing.
Tim Cahill has declared himself fit ahead of the highly-anticipated World Cup qualifier against Saudi Arabia on Thursday.
The Socceroos have managed to appear in the last three World Cups with their best performance being the round of 16 defeat to Italy in 2006.
Melbourne City midfielder Tim Cahill said that he is happy so far with his career in the Australian League.
He said that the only issue is that the season is so short as there are only 27 games. Indeed Tim Cahill has been used the strenuous season of the Premier League and will feel that the Australian league is too easy in contrast.
Ante Postecoglou has confirmed that he intends to step down from his role as the national team manager of Australia after the end of the World Cup 2018.
Melbourne City player Tim Cahill was sent off in the game against Melbourne Victory even without touching the ball.

The former Everton player came on as a substitute in the 2-1 derby loss to Victory but was sent back off the pitch for protesting the referee's decision to allow the second goal stand in the 87th minute.
Tim Cahill was sent off in the Melbourne Derby last week but the Australian has come out to apologize for his actions.

The former Everton forward who plays for Melbourne City was about to start the game from the bench during the derby but his comments to the referee earned him a red card even before making it onto the pitch.
Tim Cahill has said that Melbourne City still have a chance at winning the title this term whilst admitting that Sydney FA are a team to contend with.

Sydney FA thrashed their rivals in a Christmas derby, leaving Melbourne City in fourth place in the standings.